On November 12th, J-CLINIC Ekkamai branch reopened at Bangkok Mediplex, 3rd floor!
New location: Bangkok Mediplex, 3rd Floor
Bangkok Mediplex is a general medical mall on Sukhumvit Soi 42, across from Gateway Ekkamai and directly connected to BTS Ekkamai Station. J-CLINIC Ekkamai branch will be on the 3rd floor of Mediplex.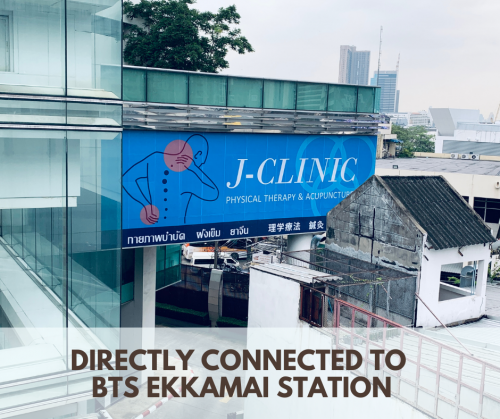 Parking is available in the Mediplex building. If you receive treatment at our clinic, parking is free for 3 hours.
If you come from BTS Ekkamai Station, go through exit 2. It connects directly to Bangkok Mediplex. Take the escalator up to the 3rd floor and you will see our clinic on your right.
✅ Office hours: 9:00 – 18:30
✅ Open daily (closed during the year-end and New Year holidays)
✅ Tel: 097-245-7863 (the number is unchanged)
✅ Ekkamai Branch's Line Code for booking
▼ How to get to J-CLINIC Ekkamai at Bangkok Mediplex

▼Physical therapy treatment rooms

▼Acupuncture and  cupping therapy treatment rooms

If you have any questions, please feel free to contact us at J-CLINIC Ekkamai Clinic. We look forward to serving you!