Hello, this is LingLing from the Acupuncture and Moxibustion Herbal Medicine Department at J-CLINIC. In this post, I'll answer some questions we often get from clients interested in acupuncture and moxibustion to boost fertility.
Q1. What can acupuncture and moxibustion do to improve fertility?
A1. Acupuncture and moxibustion improve your constitution and help your body become better able to conceive. The treatment draws out your fertility.
Acupuncture aims to:
• improve your hormonal balance
• improve the uterine environment by improving the blood flow to your ovaries and uterus
• boost the quality of the eggs (ova) by getting more nutrients and hormones to them as they grow
• encourage the fertilized egg to implant itself in the uterus
Acupuncture supports fertility treatments like artificial insemination, in vitro fertilization (IVF) and intra-cytoplasmic sperm injection (ICSI) and aims to improve your chances of pregnancy. (Note: J-CLINIC does not offer artificial insemination, IVG or ICSI services. Please seek such treatments at specialized clinics and hospitals.)
Q2. What kinds of problems do people come to J-CLINIC with?
A2. Many people who come to J-CLINIC are undergoing fertility treatment like artificial insemination or IVF. They come for acupuncture treatment to boost their chances of getting pregnant.
Clients want to
• get in their body in the best condition for artificial insemination, IVF, ICSI and other fertility treatments
• raise their chances of conceiving naturally/with the rhythm method
Q3. What happens in acupuncture and moxibustion fertility treatment at J-CLINIC?
A3. We diagnose your constitutional type and check for issues that may be getting in the way of your fertility from the perspective of oriental medicine. We then tailor the acupuncture treatment to your constitutional type.
1. Medical interview to diagnose your constitutional type
First, we diagnose your constitutional type by checking your pulse and tongue and asking about your physical condition and lifestyle. If you are undergoing artificial insemination or IVF, please tell us about your treatment schedule.
2. Acupuncture and moxibustion for your constitutional type
You will then undergo acupuncture and moxibustion that matches your constitutional type. The treatment will improve your blood flow , hormone balance, and your autonomic nervous system.
3. Post-treatment advice
We will teach you self-care tips to improve your constitution. If appropriate, we may also recommend that you try Chinese herbal medicine or herbal sauna.
Q4. Would it work even if I get just one acupuncture and moxibustion treatment immediately after artificial insemination?
A4. It depends on the condition of your body, but getting acupuncture and moxibustion one time is unlikely to be effective. To increase your chances of implantation and to prevent miscarriage, we recommend you come for multiple treatments from the day the fertilized egg is put in your body.
How does acupuncture work with artificial insemination?
Acupuncture after artificial insemination can boost your chances of implantation.
Many women get acupuncture from three months to six months before artificial insemination to improve their physical condition.
It is important to visit the clinic not only after artificial insemination but also before to get your body in good shape.
A primordial follicle takes about 150 days to grow, so you should start conditioning your body from three to six months before the egg is released from the follicle . During that time, we recommend you visit J-CLINIC every week or every 10 days.
If you cannot come frequently for treatment, we can also prescribe herbal medicines and self-moxibustion for you to do at home and recommend foods that you should add to your diet.
Q5.  After my first IVF transfer, the fertilized egg did not implant. How can acupuncture help prepare me for my next transfer?
A5.  Acupuncture can improve your blood flow to the endometrium and help balance hormones, creating a uterine environment and thick endometrium favorable to implantation.
Acupuncture and moxibustion can ease tension and stress. Clients going through IVF have to juggle busy hospital visits and a rollercoaster of emotions that include tension, anxiety, and anticipation. The stress can make it hard to get a good night's sleep.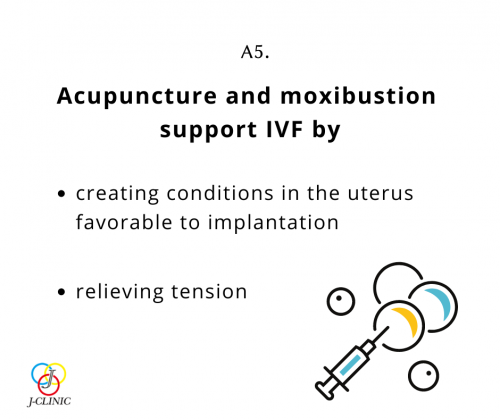 Acupuncture and moxibustion can ease tension and stress. Clients going through IVF have to juggle busy hospital visits and a rollercoaster of emotions that include tension, anxiety, and anticipation. The stress can make it hard to get a good night's sleep.
Acupuncture warms your body, relieves fatigue, and relaxes the body. It's why some patients come to J-CLINIC before their IVF transfer.
Q6. Can people get pregnant with just acupuncture and moxibustion treatment?
A6. Yes, some clients have gotten pregnant without fertility treatments other than acupuncture and moxibustion. Acupuncture and moxibustion helped ease poor circulation, tiredness, tension, stiffness, and headaches.
However, as with any treatment, acupuncture and moxibustion are not effective for everyone. If underlying physiological conditions are causing your fertility issues, we may not be able to help.
If you have fertility issues, we recommend that you see a fertility specialist. The specialist can teach you how to make a basal body temperature chart and test your cervical mucus. They can also administer tests like general semen analysis and postcoital test (Sims-Huhner test) and do a hysterosalpingogram and transvaginal ultrasound to see if there are any causes of infertility from a Western medical perspective. (These tests are not available at J-CLINIC.)
If you are interested in acupuncture treatment for infertility, please contact J-CLINIC.
📞For Booking
・Phrom Phong: 097-257-3577
・Thonglor: 084-424-1299
・Ekkamai: 097-245-7863
<Other blogs>
・First time getting acupuncture in Bangkok
・Cupping therapy for improving blood circulation in Bangkok
What physical pains can be treated at J-CLINIC?
🔷Physical therapy
lower back pain, stiff shoulders, sciatica, headaches, knee pain, sprains, pulled muscles, whiplash, post-fracture rehabilitation and injuries from sports and accidents.
🔶Acupuncture treatment
PMS, irregular periods, insomnia, orthopedic diseases, headache, cosmetic acupuncture, eye strain, gastrointestinal problems.

Our branches in Sukhumvit road
🔷Phrom Phong Branch (Sukhumvit 31, RSU Tower Floor4)
🔷 Thonglor Branch (Soi Thonglor 13, Home Place building Basement Level)
🔷 Ekkamai Branch (Sukhumvit 42, Bangkok Mediplex Floor 3)