Hi, this is LingLing from J-CLINIC PhromPhong branch in Bangkok. Today I want to talk about our new facial acupuncture course.
It's a special course that will give a powerful lift to your face.

Who is it for?
This course is great for anyone worried about facial sagging or wrinkles, or who just want a natural facelift.


It's most effective on common age-related issues such as bloating and fine lines that are difficult to fix with home remedies, as well as dullness and sagging jaw lines.
Procedure(Duration: 45 minutes)
1.Facelift massage
↓
2.Facial acupuncture
↓
3.Bone massage
↓
4.Detox massage
↓
5.Facial acupuncture + Electro-acupuncture
* You can keep your makeup on during treatment.
——-
Course features
In a nutshell, we work directly with the skin, muscles, and bones to lift your face and give you a youthful look.
[Highlight 1] Facial lift thru a combo of acupuncture, electro-acupuncture, and massage
Beauty acupuncture stimulates collagen production and skin regeneration. Detox massage and electro-acupuncture will then relax stiff muscles and create a powerful facial lift.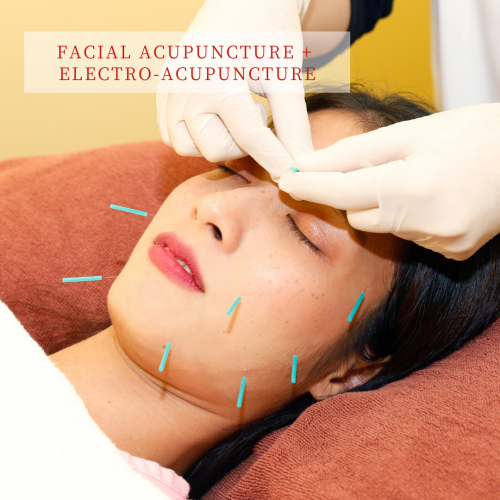 [Highlight 2] Correct distortions with bone massage
Bone massage will correct distortions along the cheeks, eyebrows, and the outer corner of the eyes, to achieve a more symmetric, well-defined, beautiful face.
Treatment fee
2,200B/Session
How often should I get treatment?
If you have many concerns (such as bloating, fine lines, blemishes, and wrinkles), we recommend you come around twice a month for intensive treatment.
Once your skin condition improves, a monthly maintenance session should be sufficient.
For those getting facial acupuncture and bone massage for the first time
* If you are new to facial acupuncture or are sensitive to stimulation, please consult our staff first.
* Bone massage involves pushing on your facial bones and pulling up the muscles of your face, which some people may find painful.
Please tell our therapist immediately if the pain is too much.
―――――――――
This course is also perfect for when you are preparing for an important event and want your skin to be in top condition.
Any questions or want to reserve a spot? Call us (097-257-3577) or get in touch via Facebook or email.
📞For Booking
・Phrom Phong: 097-257-3577
・Thonglor: 084-424-1299
・Ekkamai: 097-245-7863
<Other blogs>
・First time getting acupuncture in Bangkok
・Cupping therapy for improving blood circulation in Bangkok
What physical pains can be treated at J-CLINIC?
🔷Physical therapy
lower back pain, stiff shoulders, sciatica, headaches, knee pain, sprains, pulled muscles, whiplash, post-fracture rehabilitation and injuries from sports and accidents.
🔶Acupuncture treatment
PMS, irregular periods, insomnia, orthopedic diseases, headache, cosmetic acupuncture, eye strain, gastrointestinal problems.

Our branches in Sukhumvit road
🔷Phrom Phong Branch (Sukhumvit 31, RSU Tower Floor4)
🔷 Thonglor Branch (Soi Thonglor 13, Home Place building Basement Level)
🔷 Ekkamai Branch (Sukhumvit 42, Bangkok Mediplex Floor 3)