Post-surgery rehabilitation at J-CLINIC
Hi, this is Kik from the J-CLINIC Thonglor branch in Bangkok.
Today, I will talk about post-surgery rehabilitation. At J-CLINIC, we offer rehabilitation therapy after you have such surgeries as for herniated discs (slipped disc) or for knee injuries like anterior cruciate ligament injuries and meniscal tears.

For these types of injuries, surgery is not the end of the story. You need rehabilitation to make sure that your problems don't recur.
 [Rehabilitation therapy at J-CLINIC]
1. For pain or numbness in your affected areas, you'll get a deep tissue massage to relax the muscles and high-voltage electric therapy and acupuncture to ease your pain.
2. To help you regain your range of motion in the joints, you'll undergo motion and manipulation therapy.
3. To improve weak or stiff muscles, you'll be shown how to do exercises to increase strength and stretches to restore muscle and joint flexibility.
▼ Deep tissue massage

▼ High-voltage electric therapy

▼ Advice for stretching / training

→ Details of our physical therapy treatment
Your treatment will be adjusted to match your condition through the initial, middle, and final recovery phases.
[A patient case: Rehabilitation after disc hernia surgery]
Six months ago, Mr. E (male, in his 40s) suffered disc herniation and underwent surgery on his 4th and 5th lumbar vertebrae.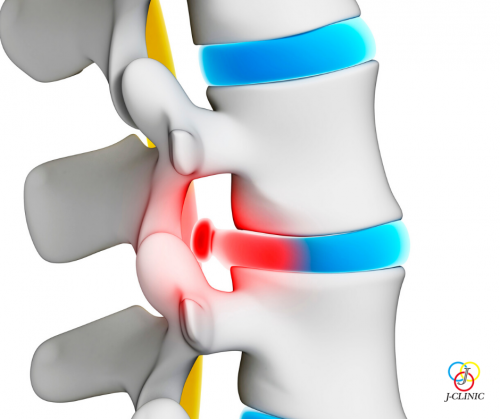 After being discharged from the hospital, Mr. E went back to work. But over the next two months, his back pain gradually returned.


By the time he decided to consult J-CLINIC, Mr. E was also experiencing numbness from his right buttock to the right hamstring.
Mr. E told us, "I want to get rid of the pain and numbness and become physically strong enough to handle sitting for long periods of time." We created his treatment plan based on these goals.
Mr. E came to J-CLINIC twice a week for two months, after which he continued therapy and rehabilitation once a week for a month. By the end of the three months, Mr. E 'graduated' from rehabilitation.


He continues to regularly stretch and do his strength-building exercises at home, while dropping by J-CLINIC for maintenance treatment a few times a month.
If you're considering post-surgery rehabilitation for your lower back and knees in Bangkok, do contact us 🙂
Our blogs
<Physical therapy blog>
・Physical therapy for ballet dancers
・Common problems for ballet dancers: Hip and knee joint pain
・What causes herniated discs and back pain?
・Post-surgery rehabilitation at J-CLINIC
・Treating sciatica
・Treating frozen shoulder
・Physical therapy for kendo practitioners
・Treating weight-training injuries 
・Treating VDT syndrome with physical therapy and acupuncture
・Your stiff shoulders and headaches are caused by uneven shoulder blades?
・What causes headaches that can't be rid by painkillers?
<Acupuncture blog>
・First time getting acupuncture in Bangkok
・Cupping therapy for improving blood circulation in Bangkok