Hello, this is Sato from J-CLINIC. We're a physical therapy and acupuncture clinic in Bangkok.
Now that it's easy to enter Thailand again, many overseas visitors are coming to Bangkok to enjoy their holidays.
But have you ever felt tired while traveling?
Travel is a time to refresh yourself, away from daily life, but many of you may arrive with fatigue stored up in your body. Maybe you worked hard to finish your projects at your job or home before your vacation or you stayed up late packing. Maybe you didn't sleep well on the plane.
But if you ignore that fatigue, you might end up exhausted or even fall sick when you get back to daily life.
In this post, Dr. Ling Ling, J-CLINIC's acupuncture and moxibustion doctor , introduces some simple self-care tips to help you relieve fatigue during your trip.
Try these so you can enjoy your time in Bangkok to the fullest and return home with fresh energy!
Self-care for fatigue while traveling
1. Drink fruit juices
Fruits are a great source of carbohydrates, vitamins, and minerals.
Drinking fresh fruit juices can help relieve fatigue, activate the brain, and eliminate excess salt.
2. Eat breakfast within an hour of waking up
Generally, our energy metabolism is good in the early morning hours, peaks at noon and then declines over the afternoon. So, try to eat breakfast within an hour of waking up.
Make sure to eat carbohydrates for breakfast. Your body releases insulin to break down those carbs, which stimulates your internal body clock . Adding some protein to your meal will further help your internal clock.
It's best if you keep dinner small—but that may be difficult since eating is one of the great pleasures of travel!
3. Get a good night's sleep
If you have a hard time falling or staying asleep during and after your trip, it can be because your body is not adapting to the changes in time, weather, and environment.
4. Breathe to relax
Good breathing can relax the brain and reduce stress. Try this easy breathing exercise in your hotel room.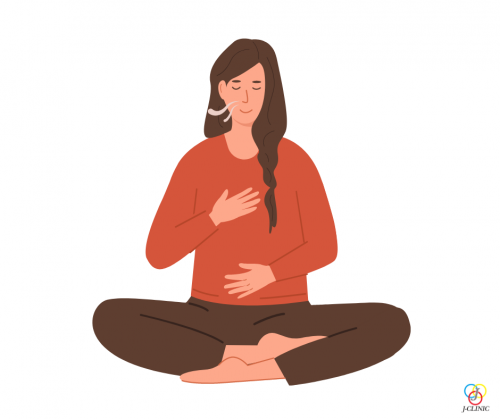 A breathing exercise to relax the body
In a quiet place, sit for 5 minutes with your back straight and relaxed.
Put one hand on your chest and the other hand gently on your abdomen.
With awareness, inhale and relax. Exhale and relax. Repeat.
5. Acupuncture to recover from fatigue in less time
If you want to enjoy yourself as much as possible while traveling and not lose time resting, you can try acupuncture, cosmetic acupuncture, or cupping.
Acupuncture
Acupuncture helps to regulate your autonomic nervous system. It improves blood circulation and loosens tension in your body. Because it relaxes your body, acupuncture is great for anyone who has trouble sleeping soundly at night.
Beauty acupuncture
If you are looking for beauty treatments while in Bangkok, why not try beauty acupuncture? Facial acupuncture works directly on stiff facial muscles. It improves your circulation and counters sagging. It's also effective against eye strain.
If you've never tried acupuncture before, we recommend our cosmetic care course, which combines acupuncture and gua sha massage.
* Gua sha massage uses coconut oil, so you will need to remove your makeup before the treatment.
We also offer the lift-up correction beauty acupuncture course, which you can do with your makeup on. This treatment is more stimulating than the beauty care course. We use bone massage and electro-acupuncture to relax stiff muscles and create a powerful facial lift.
Find out more about our cosmetic care course and lift-up corrective beauty acupuncture courses.
Cupping
Cupping promotes blood circulation. It eases your muscles and makes it easier to relax. It's especially effective against stiff shoulders caused by poor circulation.
Take care of your body so you can enjoy your trip without fatigue!
We look forward to serving you at J-CLINIC with acupuncture and cupping.
* Find out more about treatment fees for acupuncture and cupping . First-time clients must pay a 500B initial visit fee in addition to the regular consultation and treatment fees.
📞For Booking
Phrom Phong: 097-257-3577

Thonglor: 084-424-1299

Ekkamai: 097-245-7863
What physical pains can be treated at J-CLINIC?
Physical therapylower back pain, stiff shoulders, sciatica, headaches, knee pain, sprains, pulled muscles, whiplash, post-fracture rehabilitation and injuries from sports and accidents.

Acupuncture treatmentPMS, irregular periods, insomnia, orthopedic diseases, headache, cosmetic acupuncture, eye strain, gastrointestinal problems.

Our branches in Sukhumvit road
Phrom Phong Branch (Sukhumvit 31, RSU Tower Floor4)


Thonglor Branch (Soi Thonglor 13, Home Place building Basement Level)


Ekkamai Branch (Sukhumvit 42, Bangkok Mediplex Floor 3)