หากท่านต้องการรักษาอาการบาดเจ็บบริเวณ "เส้นเอ็นหัวไหล่ หรือรักษาและฟื้นฟูหัวไหล่หลังจากการผ่าตัด" ในบริเวณกรุงเทพฯ ท่านสามารถติดต่อสอบถามได้ที่ jclinic
โดยเราจะมีการผสมผสานการรักษาร่วมกันระหว่าง วิธีการรักษาด้วยหัตถบำบัด การกระตุ้นไฟฟ้า ร่วมกับการฝังเข็ม เพื่อบรรเทาอาการเจ็บและช่วยเพิ่มการเคลื่อนไหวในข้อไหล่ให้ดียิ่งขึ้น โปรแกรมการฟื้นฟูหลังผ่าตัดของเราจะทำให้ข้อไหล่ของท่านรู้สึกสบายขึ้น รวมไปถึงการแนะนำการออกกำลังกายและการดูแลตัวเอง เพื่อป้องกันการบาดเจ็บซ้ำ เพื่อเพิ่มคุณภาพชีวิต และสามารถทำให้คุณกลับไปใช้งานหัวไหล่ในชีวิตประจำวันได้คล่องแคล่วมากขึ้น!
What is a shoulder rotator cuff injury?
A shoulder rotator cuff injury (including shoulder rotator cuff tears) is when the threads of the rotator cuff muscles (the inner muscles of the shoulder) are torn. Some people think they have a frozen shoulder but are then diagnosed at the hospital as having a rotator cuff injury, usually after an MRI.
Common causes of shoulder rotator cuff injury
Shoulder rotator cuff injuries are commonly caused by
• age-related changes: as we age, the shoulder rotator cuff becomes more brittle and more easily damaged
• trauma, such as falling and landing on your shoulder or your outstretched hand, carrying a heavy object
• overuse in sports (such as golf, baseball) and work (such as hairdressing, carpentering)
Common symptoms of shoulder rotator cuff injury
When you have a shoulder rotator cuff injury, you may
• be unable to raise your arm forward or up, such as when doing housework
• wake up at night from pain or be unable to turn over
• experience pain when swinging down on a golf swing
Our treatments for shoulder rotator cuff injuries
At J-CLINIC, we offer a wide range of treatment options for your shoulder rotator cuff injury
Manual treatment
Manual treatment will relax the tension in your superficial shoulder muscles and deep trigger points to improve your body balance.
Motion and manipulation
Motion and manipulation will improve the range of motion of your shoulder joints. In addition, it improves elasticity while relieving soft tissue adhesions and stiffness.

Ultrasound and high voltage therapy
Ultrasound and high voltage therapy promotes cellular repair. It speeds up healing and relieves pain.
Acupuncture
Acupuncture improves blood flow to the stiff muscle tissue that is causing you pain and limiting your range of motion. The improved blood flow will flush out the pain-producing substances collecting in the stiff areas. It also relieves tension in joints and muscle ligaments, giving you better a range of motion and relief from pain.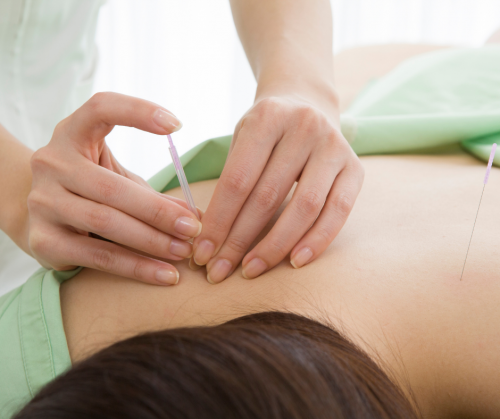 Taping therapy
Taping supports the deltoid muscle and helps alleviate pain.

Poultice
We can also prescribe poultices to help relieve your pain.

Postoperative rehabilitation of shoulder rotator cuff tears
Some patients come to our clinic for rehabilitation after surgery for their shoulder rotator cuff tear.
Rehabilitation is important! Without postoperative rehabilitation, you may be left with a limited range of motion in your shoulder or with discomfort.
 At J-CLINIC, we use manual and electro therapy to help relieve your shoulder-joint pain and increase your range of motion. We also teach you exercises that will build flexibility and strength in the rotator cuff muscles.
* Strengthening the inner shoulder muscles (rotator cuff) using a TheraBand.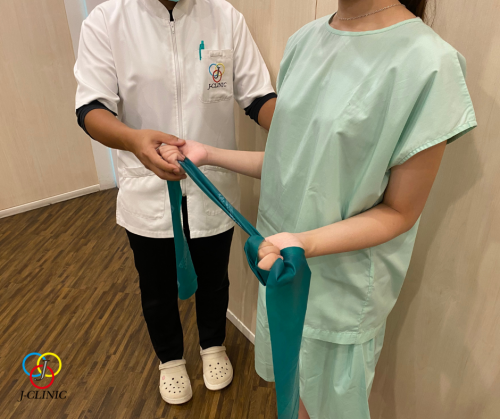 * Teaching self-care exercises using massage balls to keep the muscles around the shoulder flexible. When the muscles around your shoulder are stiff, it can put undue stress on the injured area. This can slow recovery and cause pain in other parts of the body, as you try to shield the injured shoulder.
TheraBands and massage balls are available at our clinic.
If you suffer from a shoulder rotator cuff injury or need postoperative rehabilitation in Bangkok, we invite you to contact us by phone, email, or Facebook.
📞For Booking
・Phrom Phong: 097-257-3577
・Thonglor: 084-424-1299
・Ekkamai: 097-245-7863
Treatments for shoulder pains
Shoulder muscle sprain
Shoulder rotator cuff injuries
Biceps tendinitis
Past cases
・Treatment of shoulder muscle sprain
・Physical therapy for ballet dancers
・Common problems for ballet dancers: Hip and knee joint pain
・Sprained playing soccer! Ligament damage
・What causes herniated discs and back pain?
・Post-surgery rehabilitation at J-CLINIC
・Treating sciatica
・Treating frozen shoulder
・Physical therapy for kendo practitioners
・Treating weight-training injuries 
・Your stiff shoulders and headaches are caused by uneven shoulder blades?
What physical pains can be treated at J-CLINIC?
🔷Physical therapy
lower back pain, stiff shoulders, sciatica, headaches, knee pain, sprains, pulled muscles, whiplash, post-fracture rehabilitation and injuries from sports and accidents.
🔶Acupuncture treatment
PMS, irregular periods, insomnia, orthopedic diseases, headache, cosmetic acupuncture, eye strain, gastrointestinal problems.

Our branches in Sukhumvit road
🔷Phrom Phong Branch (Sukhumvit 31, RSU Tower Floor4)
🔷 Thonglor Branch (Soi Thonglor 13, Home Place building Basement Level)
🔷 Ekkamai Branch (Sukhumvit 42, Bangkok Mediplex Floor 3)